Unlock Your Docs: The Hidden Magic of Document Management
Document management might not sound very magical, but it can be.
With the right tools and approach, your document management strategy can supercharge your productivity and improve your team's safety, accuracy, and efficiency.
But what does document management actually mean, and how can you unlock its hidden magic?
What Is document management?
Document management is the systematic approach to creating, organizing, sharing, versioning, storing, archiving, and securing information in document form.
Obviously, paper documents are not enough in today's fast-paced and complex construction environment.
Everything is handled electronically these days. From bidding to awarding contracts, RFIs to submittals, and from change orders to scheduling.
Digital document management eliminates the manual, paper-based systems of the past.
Using a centralized file repository―where all relevant documents are stored and organized―digital documents provide immediate access to all the project's critical information now and throughout the constructed asset's lifecycle.
Why is document management so important?
Documents are more than static plan sheets, contracts, and specifications in construction—they have to be.
That's because the construction environment is constantly changing. And we rely on construction documents to initiate those changes by moving critical information from stakeholder to stakeholder for review, approval, scheduling, and completion.
From estimates, RFIs, and submittals, to change orders, addendums, and directives, construction documents provide direction and a living data record of the built environment as it progresses from concept through completion and into final decommissioning.
And that makes construction documents the lifeblood of the construction process. They keep the owner, architect, engineers, vendors, suppliers, contractors, and subcontractors all informed, in touch, on schedule, and in synch.
The incredible power is hiding in your document management system.
If you're only shuffling documents around or storing them in files for ease of access, you're missing out on a ton of value and potential.
Document management systems like Linarc offer a wide range of powerful features that can make your workflow easier, faster, and more efficient.
From real-time collaboration on big decisions to simple task management, Linarc's document management system can help.
Digital documents help your project delivery teams be more accurate and efficient, regardless of specialty or team size.
Here are five little-known advantages of digital document management.
1. Automated document workflows:
Submittals, RFIs, and change order requests all follow repetitive workflows.
But as rote and routine as those workflows may be, you're always wondering who has what, where they are in the process, and when you'll get the answers you need.
So rather than searching for documents, pinging stakeholders to keep them on task, or wondering where they are in the process, the Linarc document management system solves this for you.
Automated workflows to ensure stakeholders stay informed and up-to-date on their responsibilities.
And the workflow tool features automated reminders and notifications, so the documentation process stays top-of-mind for every stakeholder, ensuring that no one misses an important deadline.
This one simple system can keep your projects on track.
By automating repetitive processes, like construction submittals, RFIs, and change order requests, your project's success is measured not in terms of hours or days but in terms of money saved throughout the project.
So, now that your workflows run smoothly, it's time to ratchet your productivity up to the next level.
2. Link documents to your construction schedule.
A digital project schedule that is linked to all your project documents.
With Linarc's digital document management system, you can associate relevant documents with specific tasks, milestones, or deadlines in your project schedule.
For example, suppose you have a change order request that affects a particular activity in your schedule.
In that case, you can attach it to that activity and instantly notify the relevant team members.
Key stakeholders can review the request, provide feedback, and approve or reject it in real-time, without searching for the original contract or drawing.
Because they already have it at their fingertips.
Here's another example. Let's say you have a change order requiring a new drawing set of plan sheets. You can link those drawings to the corresponding task in your schedule.
This way, your team knows exactly what they need to do, where, and when they need to do it.
Document-linking streamlines your communication and decision-making process, reduces the risk of errors or delays, and improves your overall project performance.
Do you know what's worse than a project schedule that is not linked to your project documents?
Field crews that don't have the proper information they need when they need it.
Misinformation leads to errors, rework, delays, cost overruns, and safety hazards.
The Linarc digital document management system helps you avoid these problems by providing your field crews instant access to the most up-to-date documents and information.
For example, if you request information (RFI) about a specific material or installation, you can link it to the corresponding plan sheet or spec sheet.
This allows your field crews to see the exact location, dimensions, and specifications of the item, as well as any related photos or markups.
Crews can also add their own markups or comments, which can be automatically synced with the office team.
Digital document intelligence enhances collaboration and quality control, reduces the risk of mistakes or conflicts, and increases productivity and profitability.
3. Task management.
Digital documents and task management go hand in hand.
Digital documents like submittals, spec sheets, photos, and markups can be linked to tasks, so field crews have everything they need to build accurately and efficiently.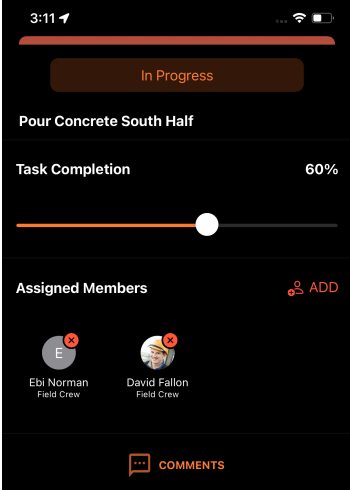 Linarc's document management system allows you to create reusable task templates, so processes are standardized and simplified while also ensuring quality.
Using the Linarc task management dashboard, it's easy to view multiple task lists, review progress, and keep track of task deadlines.
Task lists can be sorted, filtered, and tagged for additional context and better organization.
4. Data-driven decision-making.
Real-time data is essential for construction professionals.
With digital documents, you can connect all the necessary documents and schedule items, tasks, and data points to get a clear picture of what's happening on the project and where it's headed.
Documents are data dynamos, rich with insights, numbers, annotations, markups, and critical details that you can use to make smart decisions.
Data-driven decisions save time and money, reduce risk, and eliminate costly rework.
5. A secure digital document management solution.
Security is a top priority in the construction industry.
Digital documents hold vital project and stakeholder information. That means they must be protected and stored for maximum security and integrity.
That's why Linarc documents are encrypted, stored securely in the cloud, and can only be accessed with a secure login.
Authorized users can also set document expiration dates and control who can access which documents and when. Linarc lets you customize views, set security levels, and manage and track revisions for greater accuracy and control.
You can also control who can view, edit, and share each document, ensuring that sensitive information stays secure and confidential —even when you're working with multiple clients.
Because not all documents need to be shared with every stakeholder
Track document versions and distribution lists.

You can monitor who can access which document versions with real-time document tracking to avoid unauthorized access.

Automatically update document versions in real-time.

With a digital central document repository and automated document updates that you control, you can immediately ensure everyone stays updated with the latest version updates.

Intuitive and flexible.

The cloud-based Linarc document management system can be as simple or as robust as needed. Its powerful features and simple interface make it easy to use for anyone on your team.
Digital document management essentials.
Digital document management is an essential component of successful construction projects.
It streamlines workflows, simplifies processes, and helps ensure accuracy and accountability.
Linarc's digital document management system offers an intuitive, secure, and cost-effective solution to take your construction project performance to the next level.
Give every stakeholder a 360-degree view.
Linarc's strategic document management system can help you identify areas of risk and cost, create strategic plans for the future, and ensure your project is completed on time and within budget.
There's a better way to manage your vital project information and make it accessible to everyone, everywhere, and in real-time.
Linarc is an intelligent, intuitive, easy-to-use tool that simplifies the complexity of today's projects.
Get a quick and easy demonstration of the Linarc construction management system today.